Now that it's the New Year, I've started thinking about SUMMER! In fact, I've already started planning our next
themed road trip
(which I'll be revealing soon). About this time of year, I start up my Travel Time Tuesday posts, and today is the first one!

In this digital age, it's easy to hand your child a device and pacify them with movies and games the entire trip. But, as we all know, you miss so much when you're living life through a screen. Wouldn't it be nice if our road trips could be simpler, even a bit old fashioned?

Altoids may be associated with grandfathers, but the tins they come in are a great size for pocket toys. If you don't have anyone in your life that eats altoids, you can buy crafting tins on Amazon. If you have family members (like I do that can't get enough of the mints), then you might want to try making your own candies with this recipe.

Once you've collected your tins, you're ready to craft. After the jump, you'll find 50 travel toys contained in a tiny tin.




I am very interested in this game. It looks a bit like Carcassone. One thing that I love about it as a travel game is how it can be played with 1 or 2 players. It looks like it might need a bit of space to lay it out, so it might be better on an airplane or at your destination. If you added magnets to the back of the tiles, you could play on a cookie sheet.

Print the game and rules on the official site or craft your own like the one in the picture.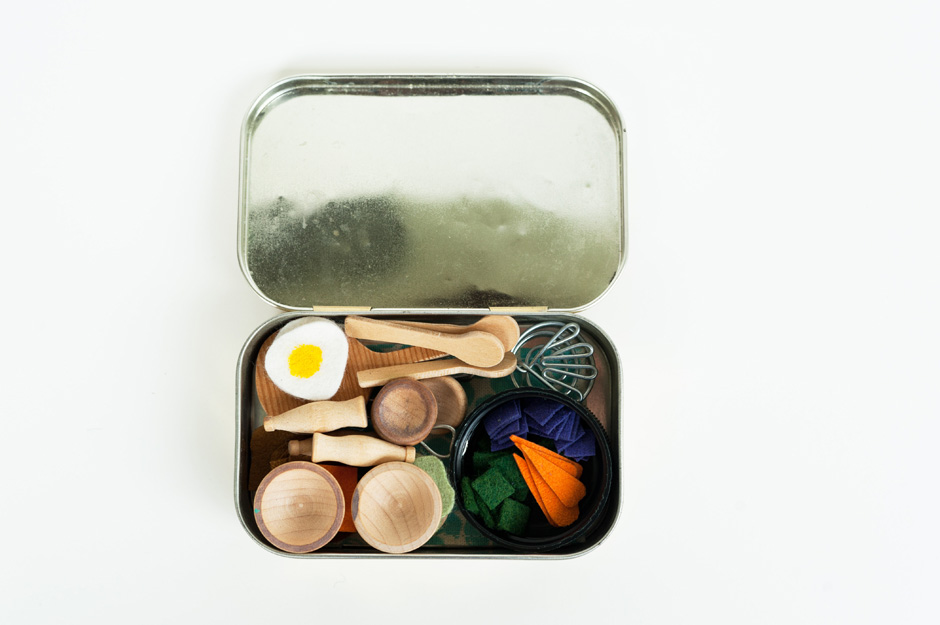 As a miniature enthusiast, I'm in awe of all the tiny accessories packed into this tin. If you have a child who loves to play cook, this might be the perfect tin for him or her.





I wouldn't hand this tin to a child, and even adults should proceed with caution. I wanted to include it because it struck me as so crazy. If you can't get through the day without feeling sand, this is the tin for you.





Sewing kits are a good idea to bring when you travel to deal with minor repairs. If you enjoy hand sewing as a pastime, this perfectly outfitted tin would be great for holding all your supplies.





One of my favorite things about this tin is the baseball cover on the outside.

It's magnetic so you can play anywhere!





I have a set of magnetic tangrams ready for our vacation and was attracted to this puzzle set because of the similarities. If you have the crafting ability, it would be helpful to make the pieces 3D to make them easier to pick up. Magnets on the back keep them from falling on the floor. The puzzles could be bound with a machine to keep them together as well.

Pieces can be printed on the Worksheet Works website


The blogger who made these tins created them for pediatric cancer patients. She wanted to give them lots of fun, small toys that could be taken to all their appointments. She used a cutting machine to cut the pieces and offers the files for free on her site. Check it out!




Unfortunately, this amazing game is for inspiration only. There's no other information about it. However, if you were well-versed in the game, I'm sure you could make your own mini version of Settlers in no time. Or you could try this dice version, which seems good for travelling.





The printable for this has to be purchased, but I thought the game was so fun and beautiful to not be included. The games are versions of childhood classics like Candyland.




Homemade coloring kits would be easy to assemble, but I liked this one with seller-made doodles for coloring. You can also pack the tin with crayons and carry a coloring book separate.




Even if you're not travelling to Paris, you can still visit with this tiny paper town. Print and play!




If you own a 3D printer, you can download the file for this frog game on Thingiverse. Or you can use buttons to build the game. What else could you fling?




I don't know how well this game would work on the road, but it's small enough to travel with you to your destination. The link only goes to a picture, which is disappointing. It looks like popsicle sticks and felt.


We love the tiny squishy animals in the Good Luck Minis toy line by Safari. These alligators are part of that collection. If your children love small animal toys, this tin is perfect for them.




License plate games are a pretty common travel activity. I love that this one fits in a pocket. Unfortunately, the link only takes you to a picture, but it seems easy to duplicate with a printer and a bit of scrapbook paper.




I hadn't heard of English Paper Piece Quilting before running into it on Pinterest. Basically, it's really tiny quilting, using a paper template to help form the shapes. It looks intimidating to me, but would be a great activity for someone who enjoys hand-sewing.

Tutorial on Paper Piecing and Quilting can be found on the RHS website.




I love this habitat made entirely of felt! As a crafter, I can appreciate the skill that this Etsy seller has to make this set. My favorite part is the beaded toy.




More small world ideas- this time it's a farm!




This is an amazingly detailed unicorn land is an Etsy exclusive. I really like the sparkly rainbow.


A bit of road tape and small cars (like these Cars Drifters) are all you need to make this boy-friendly tin. Both of my boys would be pleased to open this gift on the road, and it would keep them happy for a long time. Mom wins!




Another "picture only" pin, but it needs very little explanation.

Just grab some peg dolls and get painting!




Another easy craft. These would be great for doll miniatures (or elf on the shelf) or to haul around tiny kids' treasures. Sand and paint the tins, hot glue on some ribbon, and add decorations.




Story Stones are small rocks or tokens with pictures on them which are used to encourage story telling. You can get them in story sets like this Little Red Riding Hood one from Etsy or print some generic themed ones from websites like CreKid.




This is more of a keepsake than a toy, but it still fits the travel theme. Glass or plastic bottles are used for collecting tiny shells or sand from the different beaches you visit. Add labels for where they're from, and you're done.




A few years ago, my adult sister went on her first overseas adventure. I made her a bunch of travel accessories and games to take along. The Farkle game tin is covered with felt sticker sheets, which muffles the dice and helps them not to be so loud as they rattle around in the tin. Print off directions, add five dice, and slip into your carry-on.



Amazon.
















Pages: 1 2 3 4